AquaCalc Pro Plus Battery Life is over 8 hours of use
The following Battery topics are covered below
Battery Life
The four AA size Nickel Metal Hydride (NiMh) batteries in the AquaCalc Pro Plus (APP) are sized so that you can get more than one full day of work out of the unit . Battery life on the AquaCalc Pro Plus is about 10 hours under normal conditions using the supplied 1900 milliAmp-hour (mAh) Nickel Metal Hydride (NiMh) rechargeable batteries. Using the USB connection to charge these batteries in the AquaCalc takes about ten hours. We recommend that you carry spare batteries into the field.
The AquaCalc Pro Plus can use AA alkaline batteries, just don't' charge them.
There is a sticker in the battery compartment of the AquaCalc Pro Plus (APP) that says something like "NiMh Batteries Only". We were a little too aggressive with the warning about using alkaline batteries. The AquaCalc Pro Plus can take over -the-counter alkaline batteries, just like the old AquaCalc Pro. But, alkaline batteries should not be charged. If you leave them in accidentally, and plug the unit in to download, they will eventually grow hot and leak, damaging the APP.
Disabling the battery charging circuit
If you no longer wish to charge the NiMh batteries in the APP to avoid the possibility of damaging the APP with leaky alkaline batteries, you can disable the charging circuit in the APP:
Open the battery compartment and remove the batteries
Remove the warning sticker in the battery compartment. Underneath this sticker is a hole with a black "jumper" in it.
Remove the jumper, the AquaCalc Pro Plus will no longer charge batteries.
You can use bigger Rechageable batteries
The batteries shipped with the AquaCalc Pro Plus are Nickel Metal Hydride rechargeable batteries with 1900 mAh capacity. You can purchase NiMh batteries with greater capacity than those we provided. Sanyo makes a "Enerloop XX" NiMh AA battery that has a capacity of 2500 mAh versus the 1900 mAh that we ship as standard. The existing batteries take about ten hours to fully charge in the APP, these larger ones will take longer. You can purchase these batteries from JBS Instruments, or Amazon:
http://www.amazon.com/eneloop-Capacity-Pre-Charged-Rechargeable -Batteries/dp/B008LTJJJA/ref=sr_1_1?ie=UTF8&qid=1395336921&sr=8-1&keywords=eneloop+xx
Replace Rechargeable NiMh Batteries Annually
We also recommend that you replace your batteries annually. With repeated charge and discharge cycles, NiMh batteries can degrade and the operating voltage decrease. Over time this will result in shorter battery life and the time needed between charging.
Cold Weather and Batteries
As you know, cold changes everything when it comes to equipment, especially batteries. While the APP hardware is designed to work down to about five degrees F, the batteries don't.
Carry warm spare batteries
The biggest problem with batteries in the cold is that the chemical processes in the batteries stop when they get cold enough. Carrying warm spares in your pocket can help when the batteries in the APP get too cold to work. The APP uses standard rechargeable NiMh AA batteries, any brand should work. We like the Sanyo Enerloop brand because they have a lower "self-discharge" rate, meaning that they won't lose as much capacity when they just sit around. Some cheaper brands lose capacity as they sit. Keep spares warm.
Use an external battery pack in your pocket
One of the advantages of the AquaCalc Pro Plus's USB port, is that it can be powered through this port. This means that you can add an external battery pack to the APP, and keep the battery pack in your pocket, connected to the APP via a USB cable. The batteries stay warm.
One of our customers near Mt- Shasta has been testing this for us and is pleased with the result, he reports that it is best if you remove the batteries from the APP, so that when they get cold they don't drag down the warm batteries in your pocket. So far we have tested two types, both work. One uses your spare AA NiMh batteries and can charge them, the other uses a built-in Lithium Ion battery and has more capacity. These can be purchased from JBS Instruments, or Amazon: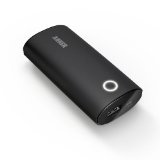 Lithium External Batteries
http://www.amazon.com/Portable-External-Technology-Smartphones -lightning/dp/B00EF1OGOG/ref=sr_1_3?ie=UTF8&qid=1395338462&sr=8-3&keywords=anker+battery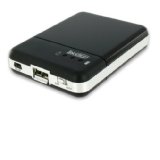 External Battery Power and Charger using AA NiMh batteries
http://www.amazon.com/Tekkeon-MP1580-TEKCHARGE-Battery -Charger/dp/B006FXUS1C/ref=sr_1_1?ie=UTF8&qid=1395338542&sr=8-1&keywords=tekcharge+battery
We would be interested in you results when testing these.
Normal Discharge Cycle Voltage of NiMh batteries in an AquaCalc Pro Plus
We recommend that you replace batteries every year. Old rechargeable batteries can perform poorly. We tested a used AquaCalc Pro Plus 14050264 with new 1900 mAh batteries (which ran for 11.5 hours), and older used customer batteries (which ran for 7.25 hours). The normal power draw for an AquaCalc Pro Plus is between 0.13 and 0.17 Amps.
New Batteries:
Note the initial drop off in voltage slows at about 5.1 volts and then "plateaus" and slowly falls to 4.85 before picking up pace and exhibiting the standard S curve. After the AquaCalc shuts off, the battery voltage rises slightly as the batteries recover.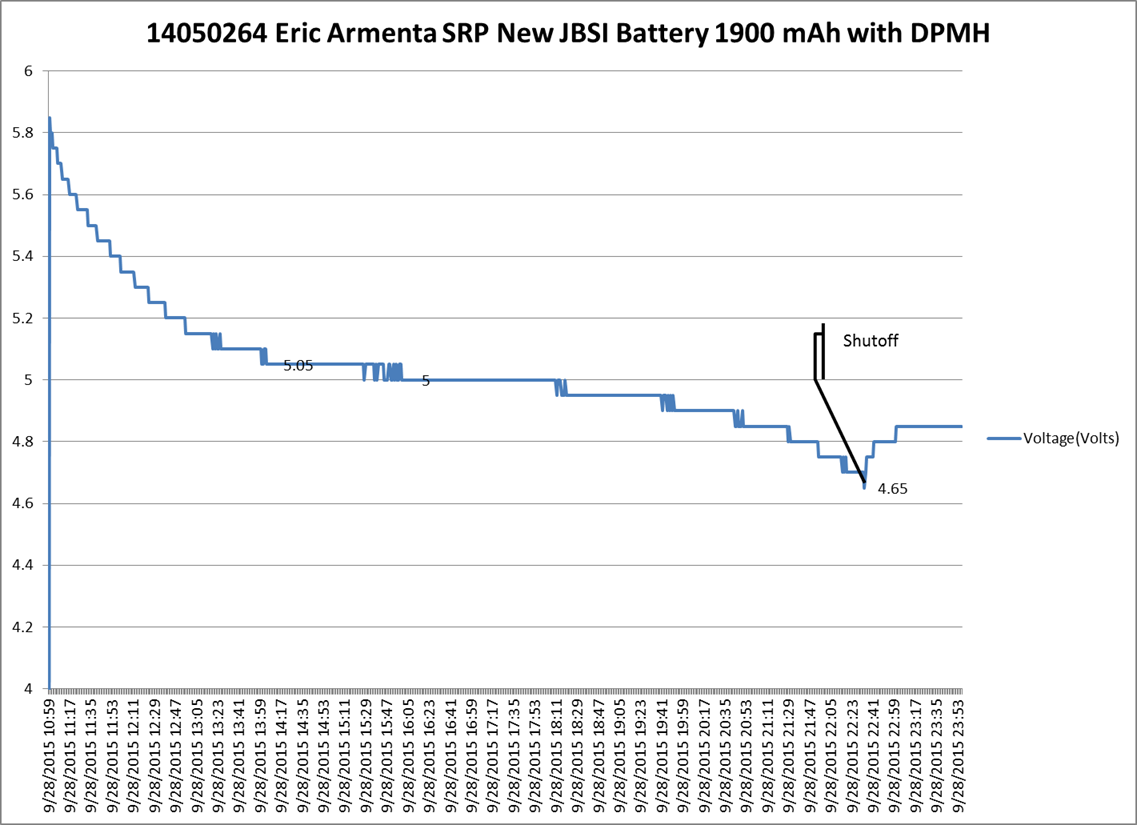 Methodology:
After charging the batteries to full (which takes about 14 hours), the AquaCalc was set to Auto-Pwr Off" to "Never" power off, placed in the Measure screen with meter beeps turned on, connected to a rotating pygmy current with a AquaCalc Digital Pygmy Magnetic Head, and run continuously until it shut itself off. In the 14050264 1900 mAh battery unit brand new fully charged batteries were used. The test was run at a room temperature of about 78 degrees.
Old Batteries
Note that in older batteries, the initial voltage will fall much lower, and the entire plateau will shift lower, below 4.7 volts, causing the the AquaCalc to shut off sooner before it reaches the voltage "tail".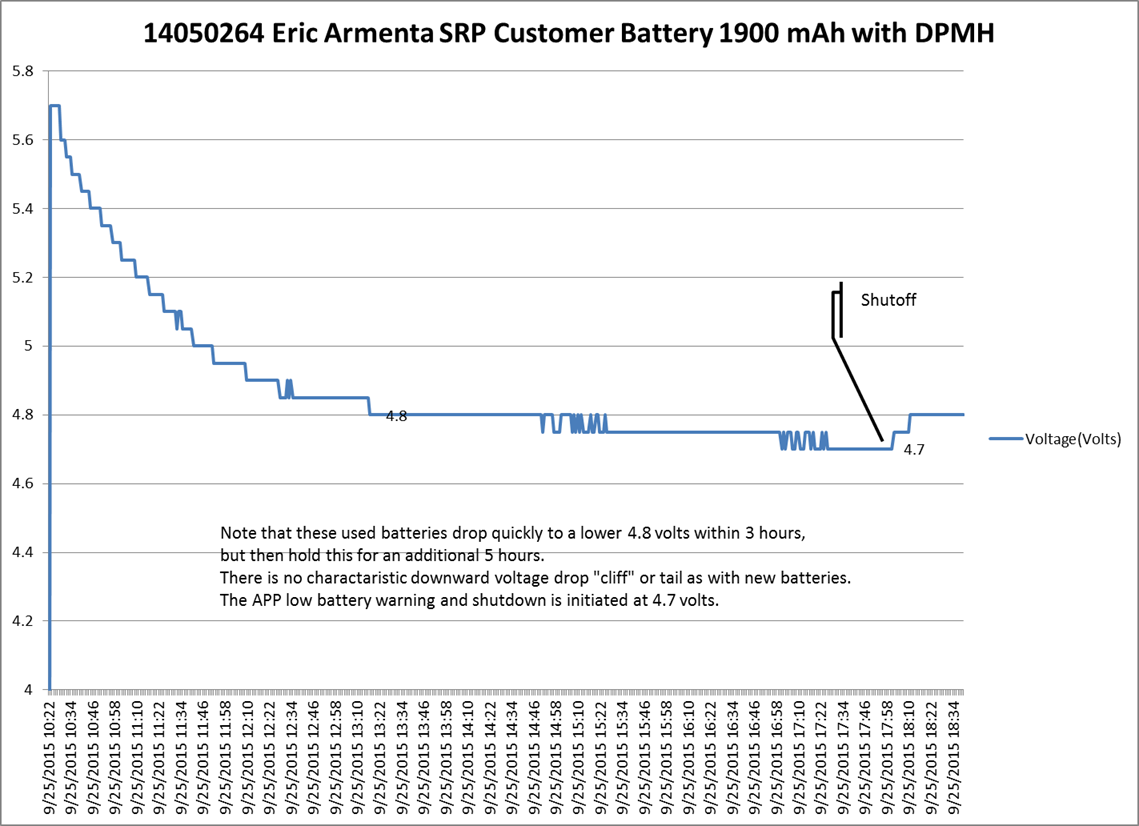 Need Accessories or Cables?
We have replacement parts and cables for the AquaCalc line of stream flow computers including the Digital Pygmy Magnetic Head retro fit your old Pygmy Current Meter with a new digital magnetic sensor.
Find Accessories and Cables here.